Teacher's Pet (also known as Disney's Teacher's Pet) is an American Disney animated television series about a nerdy 9 (later 10)[1] year old boy and his dog who goes to school as one. Created by Gary Baseman, Bill Steinkellner and Cheri Steinkellner, the first season was broadcast on Disney's One Saturday Morning on ABC, and the second season was broadcast partially on ABC and then moved to Toon Disney after the first eight episodes of the season. The show ran from 2000 to 2002, having 2 seasons with a total of 39 episodes.[2]
A feature film version was released in 2004 (with most of the cast from the show reprising their roles).
Premise
Teacher's Pet follows the adventures of quiet and reserved Leonard Helperman and his excitable dog, Spot Helperman. On Leonard's first day as a fourth-grader at Fala D. Roosevelt Elementary School, with his mother, the boisterous and energetic Mary Lou as the class teacher, Spot can't resist the urge to dress up like a kid and go to school, since he has always desired an education and loves to read and learn. He, as well as every other animal in this world, can talk and walk on their hind legs.
He goes to school as Scott Leadready II in Mary Lou's class, and quickly becomes one of the best and most popular students in the fourth grade.
When Leonard finds out the popular new kid in class is his own dog, he is reluctant about letting him stay at school, but he allows him to do so when he realizes that it's his dream, but on one condition: that no one outside of themselves, the Helperman pets (assertive canary Pretty Boy and timid tabby cat Mr. Jolly) and Spot's dog friends, find out about it. Leonard will occasionally try to convince Spot to go back to life as just a dog, to no avail.
Spot's "human name", Scott Leadready II, was created by a combination of human error and luck: He had told Mary Lou his name was Spot, but she misheard him and thought he said Scott. Taking advantage of her mistake, he saw a pencil that said "Leadready No. 2". Scott decides to use this for his last name, and Mrs. Helperman believes that he means "Leadready II", so that becomes his name.[3]
The majority of the episodes take place at school, but some episodes also have subplots revolving around Pretty Boy and Mr. Jolly's adventures at home.[4]
Other characters in the series include Leslie Dunkling, Leonard's crush; Ian Wazselewski, who collects and does things that are viewed as disgusting by his peers; Younghee Mandel-Baum, Leslie's best friend who picks on Leonard but secretly has a crush on him; Principal Strickler, the strict and straight-laced principal of Fala D. Roosevelt Elementary; Tyler, Taylor and Trevor, the coolest kids in class who are apathetic about most things; and Chelsey and Kelsey, twin sisters who often gossip in class.
Production
A KaBlam! short titled Stewy the Dog Boy was planned to become a spin-off, which had a very similar plot to this series, but when Nickelodeon found out about Teacher's Pet, the spin-off was cancelled. Interestingly, Gary Baseman, co-creator of this series, did a short for KaBlam!, titled The Louie and Louie Show during its first season. Baseman had made an earlier pilot of this series, though it was unaired.[5] Later, Baseman came up with the concept of a dog who went to school as a boy, inspired by his own dog Hubcaps, as he would wonder what the dog did when he was not at home.[6] Baseman had another series titled Family Tree in development at Disney during production of Teacher's Pet's pilot episode, which was to be "a coming-of-age story about change, friendship, loyalty and having a very fluffy tail." Evidently, it did not become a series.[7]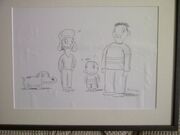 Gary Baseman, alongside husband-and-wife writing team Bill and Cheri Steinkellner, pitched the original idea to Disney. The Steinkellners then asked their three children what they thought of the series, and all three liked it, as did Bill and Cheri. The creators soon began working on the series. They set the story in the fourth grade because they knew what a time in one's life of total embarrassment and total mortification it was. So nothing could be worse for a kid who doesn't want to stand out and be noticed than to have his dog show up in his clothes and be around his new classmates and how the students were too ignorant to know he's a dog.[8]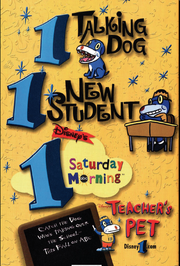 Baseman's unique art style was used for the series, having painted the characters and backgrounds in the early episodes in order to establish the look for the series.[9] He hired Timothy Björklund as the series main director, with Björklund making sure the show looked like Baseman's paintings.[10] All backgrounds were painted on canvas. Storyboard artists, timing directors and other animation personnel drew every episode for the overseas studios to animate, who would send back rough animation should it need any correcting. The show's editing, voice recordings and music were conducted in the United States.[9] The series employed two overseas animation studios: Wang Film Productions (located in Taiwan) and Toon City Animation (located in the Philippines).[11]
The show premiered on ABC as part of Disney's One Saturday Morning block.[12] New episodes premiered there until February 2002, though reruns still aired on the block until OSM ended on September 7, 2002, where it was succeeded by ABC Kids. The series began airing on Toon Disney on January 7, 2002, and premiered new episodes on Fridays, the first one being aired on January 11.[13] It finished its run in May of that year. Reruns of the series continued on the channel until 2006.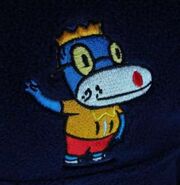 During season 2, Nathan Lane had begun acting in the Broadway musical The Producers, and so was unable to voice Spot/Scott in certain episodes, where he was voiced by Lane-soundalike Kevin Schon. The first of these episodes was "Fresh 'n' Frozey Chocolaccino"; Schon also filled in for Lane when the latter could not provide his singing voice in episodes otherwise voiced by him. Schon would later take over the role permanently for the rest of the series, with Lane's last performance during the series run being "All About Eavesdropping".[14]
After the pilot was finished, the creators wanted to make a film based on the series, and used the show to help develop a larger story. The series was well received critically, but it had difficulty finding an audience, and (like most One Saturday Morning shows during it's fourth season) was cancelled after the second season. Even so, work on the film continued, with Disney's support.[8]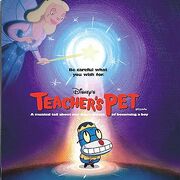 The film was originally slated for a September 2003 release, before being pushed back to February 2004. Ultimately, it was released a month early on January 16, 2004.[6] A marathon of the series was run one week prior to the release of the movie to promote it.[15] It serves as the series finale, as it closes most of the storylines that developed throughout the series. Much like the show, the film was critically acclaimed, but was a box office bomb and only earned half it's money back,[16] which Baseman blames is on Disney's part for poor marketing.[17] Nathan Lane returned to voice Spot/Scott in the film. More information can be viewed on the film's page.
Cast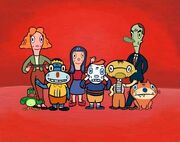 Main cast
Recurring cast
Guest Cast
Note: This is only a select list. The episode pages contain more information about guest voices.
Episodes
Like the other One Saturday Morning shows, Teacher's Pet is an E/I (educational and informational) show. The episodes always contained a moral or lesson that most children experience, such as how to deal with bullying or prejudice.[8]
The first season contained 13 episodes, while season 2 had 26, bringing the total number of episodes to 39. Each season had 4 episodes with two segments, giving the series 8 segments in addition to the 39 episodes, adding up to 47 overall.
Although the series primarily focused on school, later episodes ventured to other places in East-Westland, not featuring the school at all ("The Tale of the Telltale Taffy" and "The Grass Seed is Always Greener..." being some examples).
Additionally, several holiday episodes were made. Two Halloween episodes ("Costume Pity Party"[18] and "The Tale of the Telltale Taffy", the latter of which is a loose adaption of The Telltale Heart by Edgar Allan Poe),[19] two Christmas episodes ("A Dog for All Seasons", which featured John Mahoney,[20] and "The Blight Before Christmas"), a Valentine's Day episode ("Taint Valentine's Day") and one about Thanksgiving ("The Turkey That Came to Dinner").
For more detailed information about episodes of this series, see the episode guide.
Openings
Interestingly, three versions of the intro exist. All of them are mostly the same, with a couple of differences:
The first intro features Spot putting on his red pants, and waving his hand and looking at the viewer, as seen above.[21]
The second intro replaces the pants scene with Spot taking off his fur to reveal red shorts. At the end of this version he is still waving and looking at the viewer, but in a more relaxed manner.[22]
Finally, the third version is much the same as the second, only this time it has Spot taking off his fur with a zipper and revealing his skeleton, while still wearing the red shorts. This is the most rare variant, as it was only shown in a couple of episodes.[23]
Merchandise and other media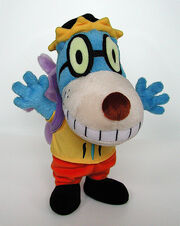 In October 2000, a comic was made based off the series, released in Disney Adventures, titled "Food for Thought!", which was written by Bill and Cheri Steinkellner, penciled by Steven Butler and Gary Baseman, inked by Butler, and with letters and colors provided by John Green, featured on pages 84-87. This was later adapted on television in May 2002 as an episode of the series, "The Nose Knows". The comic can be downloaded here.
Additionally, a plush of Scott was also made at the height of the series' popularity. It can be seen on the right. This is the only type of merchandise for the show, not counting the film's DVD.
The DVD for the movie was released on June 15, 2004, and includes the first episode, deleted scenes from the film,[24] as well as interviews with the cast and crew as bonus features. It was also released on VHS.[25]
Awards
Won Emmy: Daytime Emmy Award Outstanding Special Class Animated Program 2002[26] and 2003[27]
Won Emmy: Daytime Emmy Award Outstanding Performer in an Animated Program: Nathan Lane 2001[28]
British Emmy (BAFTA): Best International Children's Programming (2001).[29]
Baseman also won for Outstanding Individual Achievement in Animation (2003) for Production Design on this animated series.[30]
Chuck Klein, a storyboard artist for the series, was the recipient of the Outstanding Individual in Animation award in 2002 for his work on the show.[31]
Nominated at the Annie Awards: in the categories of Outstanding Achievement in a Daytime Animated Television Production, Individual Achievement for Production Design in an Animated Television Production (Gary Baseman) and Individual Achievement for Voice Acting by a Male Performer in an Animated Television Production (David Ogden Stiers), all 2001.[32]
Won National Cartoonist Society for Television Animation for Gary Baseman, 2001.[33]
Won Parents' Choice Award for Television, Spring 2002.[34]
Trivia
Fala D. Roosevelt Elementary School is named after Franklin D. Roosevelt's dog.[35]
The series takes place in East-Westland, United States, though the state is never specified.
Alternate titles
France: Scott and Leonard!
Germany: Class Dog
Sweden: A Pooch in Class
Gallery
External links
References
Community content is available under
CC-BY-SA
unless otherwise noted.