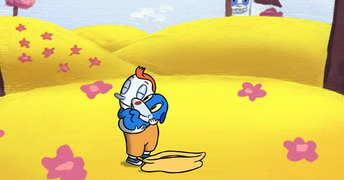 A Boy Needs a Dog is a song from Teacher's Pet: The Movie.
Lyrics
Spot: (Spoken) Aw, geez. You're gonna sing now, aren't you?
Leonard Helperman: I know it's been said,
Spot Helperman: (Spoken) Oh, boy.
Leonard: Everyone needs someone
Spot: (Spoken) This is not making it better!
Leonard: A loyal companion,
To share in life's fun
Spot: (Spoken) You're killin' me here.
Leonard: For a day at the park,
Or a game of leap frog.
(Spoken): Sing it with me, Spot
Spot: (Spoken) I'd thought you'd never ask!
Both: A friend needs a friend,
A boy needs a dog
Lyrics (Reprise)
Scott: I know it's been said,
Everyone needs someone
A loyal companion,
To share in life's fun
For a day at the park
Or a game of leap frog
A friend needs a friend
A boy needs a dog

A small hand to shake (Leonard: Wanna run a race?)
For a bowl full of grub (Leonard: What a funny face)
A face to be licked,
When a tummy gets rubbed
Like a mom and a dad
Need their bundle of joy
Both: A friend needs a friend
A dog needs a boy

Scott: I can't go on with just half of my heart
Leonard: Nothing and no one can keep us apart
Both: It's a permanent bond we can never destroy
Scott: A friend needs a friend
Leonard: A friend needs a friend
Scott: I've got to get back to my boy! (Leonard: A boy needs a dog needs a boy!)